Apple Music is one of the world's biggest streaming services and your music needs to be there. CD Baby makes it happen.
Want to make your songs available on Apple Music AND get instant access to Apple Music for Artists? Of course you do. Apple Music is a giant in the world of ad-free music streaming, with a particular focus on human playlist curation and live radio.
Since Apple Music is integrated with Siri, it's the go-to music source for users of Apple devices. Plus, EVERY user is a paid subscriber!
CD Baby is a "Preferred Plus" distribution partner of Apple Music, meaning we can exclusively offer you:
Speedy delivery of your music to Apple Music
Manual auditing of all metadata
Support for advanced Apple Music customer features
Advanced Apple Music analytics
Early access to Apple Music product features
and more!
How to get on Apple Music
If you're already distributing an album or single with CD Baby, and you've opted in for distribution to streaming services, we'll deliver your releases to Apple Music automatically — at no additional charge.
If you're new to CD Baby, sign up for worldwide distribution and we'll get your album or single onto Apple Music, and 150+ other digital music platforms.
Apple Music for Artists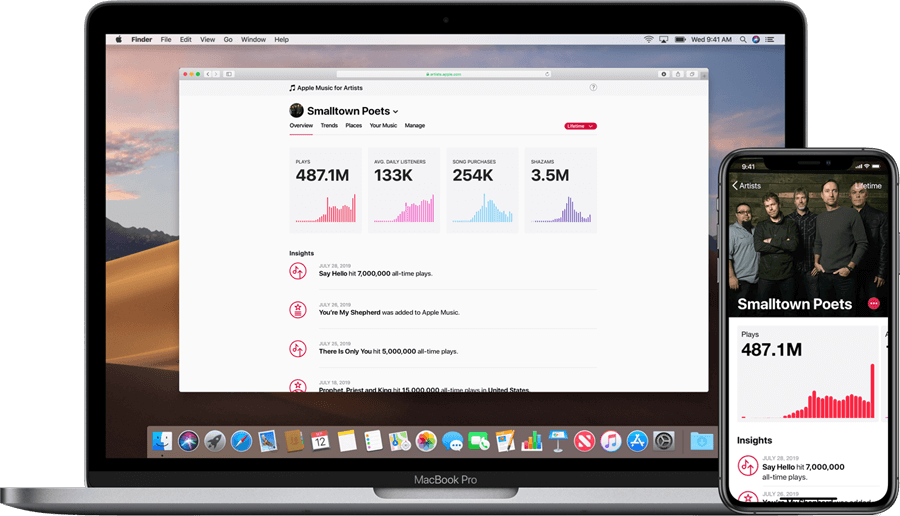 CD Baby artists can now get their Apple Music for Artists account verified faster — Just use your CD Baby email and password when signing up. With Apple Music for Artists, you can:
Track milestones in your music's performance.
Find out who your listeners are and where they're located
Upload an artist image to express your personality
You can also download the Apple Music for Artists iPhone app to keep tabs on how your music is performing on the go.
Get your music on Apple Music and more.