Get global digital music
distribution today!
CD Baby:

The best music distribution service for independent musicians.

Music distribution is about getting your songs in front of the most people possible. That's why thousands of independent creators from around the world use CD Baby to release their music across all major digital streaming platforms like Spotify, TikTok and YouTube Music. With CD Baby, you upload your tunes for a one-time fee of only $9.99 and we'll take care of the rest, so you can focus on the things dreams are made of, like making money and growing your fan-base.
What are music distribution services?
In short, music distribution services help you get your recordings out there. Artists have a lot of responsibilities between writing, recording, booking shows, networking and interacting with fans on social media. Music distribution services like CD Baby do the work of getting your music into the world, in front of fans, onto streaming and ecommerce platforms. We help get your music to audiences around the globe, and provide you with the tools to successfully promote your music. At CD Baby, we work with more than 150 digital distribution partners to make it happen, including all of the most popular streaming services like Spotify, Apple Music, YouTube, Pandora, Tidal, TikTok, as well as SoundCloud.
How do I get my music distributed?
CD Baby is an affordable way to get global digital music distribution today. The whole signup process can take a matter of minutes. Upload your music and basic details like track information, then a real human inspects your audio and visual files and delivers your songs right to the major digital music platforms like Spotify. Claim your artist profile on streaming platforms and make sure your music is appearing in the correct artist discography. We even help you get set up on the platforms faster, like fast-tracking instant artist verification.
How much does it cost?
CD Baby makes releasing music affordable— all our distribution services for only $9.99 per release. This includes albums and singles. And whenever we add a new retail partner, your music will be delivered free of charge. Many music distributors claim to offer free music distribution but charge per-retailer fees, yearly fees, cancellation fees, and all kinds of hidden add-ons and upsells for additional services. CD Baby has no recurring subscription fees, so you don't have to worry about us taking down your music if you miss a payment (there are no payments!)
What platforms should I distribute my music on?
You'll need to get your music on all of the popular download and streaming sites, as that's where most people spend their time listening to music. This includes the big players like Spotify, Apple Music, iTunes, Amazon, YouTube, and Shazam. Many artists make the mistake of thinking all their fans are on one platform, but the truth is, listening is more fractured than ever. A look at your data will probably show your audience is spread across Spotify, YouTube, Apple, Deezer, Amazon, Pandora, and more. At CD Baby, we have digital distribution partnerships with all of the big music sites and add more all the time, so we do a lot of the work for you. Let our connections and partnerships help you. We're a preferred Apple content provider, which means we can get your music on Apple Music within a few days after you give your final approval for distribution.
How to distribute your music
(
with CD Baby

) in 3 steps:
STEP 1

Sign up and upload your music

Sign up for an account and choose between releasing an album (collection of songs) or a single (one) song. CD Baby's Startup Guide can help guide you through the sign up journey and what information to include, like metadata, release date, digital distribution options, barcodes, and uploading artwork and audio files.
STEP 2

Submit your music to us, and we'll send it to the world

Submit your information and we'll take it from there. We inspect all submissions and files before sending them out to our 150+ digital distribution partners. Although CD Baby can deliver your music to platforms quickly, many DSPs — including Spotify — tout the benefits of delivering music well in advance of your release date, to take full advantage of their on-platform promotional and pitching tools.
STEP 3

See who's listening and market your music

Once CD Baby has distributed your music and your work is out in the world, use your CD Baby dashboard as a home base to manage your music business. You can track sales and generate sales reports to understand your audience, access promotion tools, set up or optimize artist profiles and channels, and explore many more artist and royalty resources.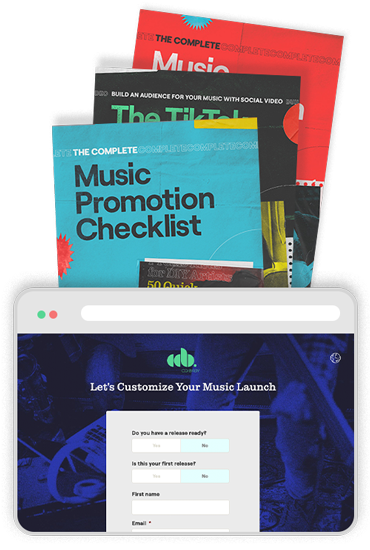 Things to consider before distributing your music
There's a lot to do before you release your music. The first (and most important) step is to ensure you're happy with the quality of your recordings and the mastering. You'll also need to make sure you have the proper rights and copyright basics covered. The last thing you want is to release your music and have people download it, then have to pull it back because of a legal issue.
Next, create a comprehensive launch plan, with deadlines to keep you on track. CD Baby's Release Plan Generator instantly creates a downloadable, custom timeline and pre-album release checklist to guide you through the process, whether it's your first release or your tenth. Get step-by-step instructions and reminders for file sizes, profile updates, account activations, messaging, PR and promotions, as well as a recommended release date. Key dates are displayed at a glance and you can download and save a copy of your release plan right on your phone or computer.
What you should do once you distribute your music
The work doesn't stop once you've released your music into the world. Now is when you need to get creative and start promoting it. Your CD Baby dashboard has dozens of promotional tools and artist resources to help you pitch your music to playlists, get radio play, and establish a more effective web presence. Be sure to add visuals to your platform profiles, such as Spotify Canvas (the looping video that plays along with the track), and add your lyrics. These steps will help keep listeners engaged.
Preparing for your music release
Promote any upcoming shows or new information, ensure your bio and promotional photos are up-to-date, and get creative with fan extras like behind-the-scenes content. This is also a good time to pitch your music to editorial playlists and Spotify's Release Radar. Check out this list of 10 Things You Should Do as Soon as You Sign Up for Music Distribution, for pitch links and more information.
Common mistakes to avoid in music distribution
Distribution strategies have changed a lot over the years. It's important to think about digital distribution first but don't ignore the power of physical products. You no longer have to press thousands of vinyl or discs in order to make it affordable. With CD Baby's Vinyl pressing and CD duplication service, you only need to press as many as you want so it's super affordable with no waste.
Another common mistake is when artists seek out free music distribution services, without doing their homework. You pay for what you get — and "free" will cost you. There can be hidden or monthly costs associated with some of these services, and missed payments could result in your music being taken down from sites. Be sure to read through terms and fine print, and turn to trusted, established music distribution companies like CD Baby, so you know your music is in good hands.
Music Distribution FAQs
Which music distribution service is best?

CD Baby is the best music distribution service for independent artists and labels because we've been in the business for 25 years and have partnerships with all of the major digital distribution platforms. We've been paying artists on a weekly basis since 1998 — most labels still only pay out quarterly. As the oldest and most trusted independent distributor, we are the best music distributor and can help you sell your music online faster than anyone else.

How much does a music distributor cost?

While many music distributors will charge per-retailer fees, yearly fees, and cancellation fees, we offer all of our distribution services for only $9.99 per album or single with no recurring costs. And whenever we add a new retail partner, your music will be delivered free of charge.

What are music distribution services?

Music distribution platforms do the work of getting your music to as many platforms as possible, allowing you to focus your time on other things like promoting your work, playing shows, and building your online audience.

Which music distribution service pays the most?

CD Baby is the most cost-effective way to release music and keep it online forever, where you can build an entire catalog of songs over a lifetime. We make it easier to register for rights and royalties, track your sales, and intervene with creative promotions and strategies to boost them. It's important to know how and when your music promotion efforts are paying off. With CD Baby you can easily review every sale and stream in your account. You'll also get daily trending reports from Spotify, so you can easily gauge the effectiveness of your current tour or marketing campaign.

How can I publish my first song?

CD Baby has what you need to start releasing your songs into the world and help you get set up with the rights you need to collect royalties along the way. Songwriters can publish, distribute and register tunes right from their account, and sign up for performing rights with organizations like the American Society of Composers, Authors and Publishers (ASCAP), BMI, or SOCAN in Canada. This is an important step for ensuring you're given credit as the music publisher, and that you and any writing partners get paid the royalties you deserve.

How do I get my music distributed?

CD Baby can help you distribute your music across digital streaming platforms worldwide. There are music aggregators on the market that work with digital streaming services only, but it's better to go with an established music distributor that covers it all and has deep partnerships with platforms. For example, CD Baby has preferred partner status with Apple and Spotify, is a flagship member of YouTube's Preferred Distributor Program, and YouTube monetization is included with your one-time CD Baby fee.

What distributor does Spotify use?

Spotify works with a number of music distribution companies, including CD Baby. We are a "preferred" Spotify distributor and can help you release your music on Spotify, claim your Spotify artist profile, pitch to editorial playlists and more.
Do you need a distributor for Spotify?

You'll need a music distributor or aggregator to get your music onto Spotify. CD Baby can help you distribute your music on Spotify and to more than 150 other streaming platforms, all at the same time, for a one-time fee.

How do I distribute my own music?

There are ways to distribute your own music using direct artist platforms like SoundCloud and Bandcamp. However, these platforms can limit your audiences because they require work from fans to proactively visit and download your music, and limit discoverability. The average person prefers to listen on the platforms they already use on a regular basis, like Spotify, which has millions of subscribers. Platforms that don't have big built-in audiences, and ways to reach them through algorithm recommendations and playlists, just puts more pressure on you to promote your music and drive fans to your pages. There are many benefits to working with the best music distributors like CD Baby, to get your music onto major streaming sites and get exposed to new audiences.

Can I distribute my music without a distributor?

The short answer is no. The most popular music streaming platforms require music to be properly distributed by a reputable service or label.

What are the 4 types of royalties?

There are dozens of ways to make money from your music, from streaming and download royalties to master recording rights, to social and video monetization as people play your videos.
Traditionally, royalties are tied to publishing music. These four main types of royalties are performance, mechanical, sync and print music royalties. Performance royalties are not the same as live performance royalties – they're actually collected when your songs are played or streamed live in the world, like restaurants or streamed on the radio. Mechanical royalties are typically collected when someone downloads or listens to your songs on-demand using a streaming service like Spotify. Sync royalties are collected when your music is used within videos, video games or other media like commercials. Print royalties aren't as common anymore, as they relate more to sheet music sales.

How do I find a song distributor?

You've found one right here! CD Baby is a song distributor. We can help you distribute a single song or a complete album with a collection of songs. Sign up for a free account to get started.

How much is a distributor for music?

Prices vary depending on the service, but CD Baby offers the most streamlined solution, with a one-time fee of only $9.99 to release an album or single across all major distribution platforms. That means no monthly payments or surprise costs along the way.